Review of GRE POWERPREP PLUS Tests (Paid)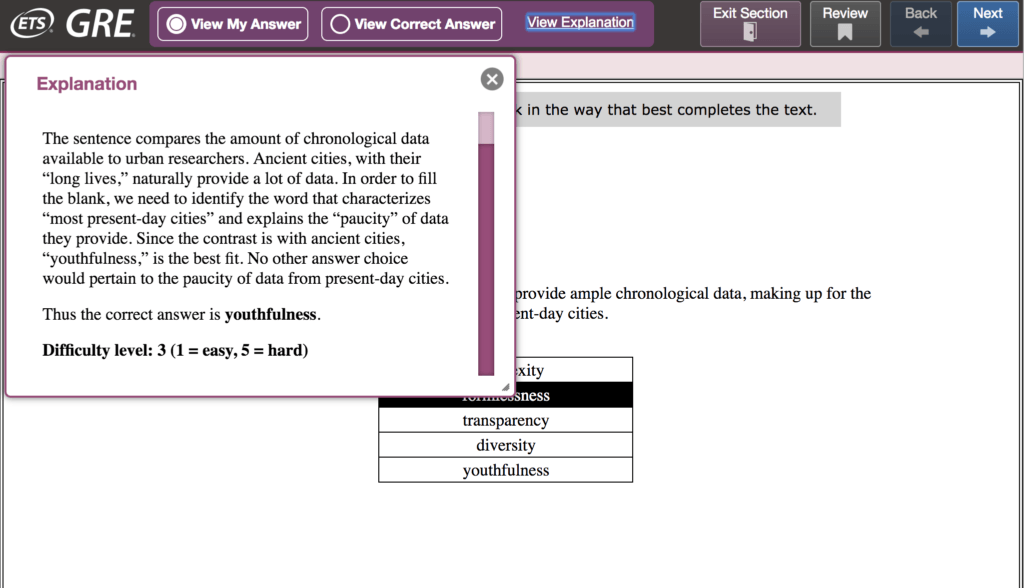 One of the most common complaints I hear from GRE test takers is that ETS has not shared enough official practice questions or tests. On the contrary, GMAT, which is very similar to GRE, shares hundreds of practice problems (some free, but mostly paid) for prospective test takers. Well, things have now changed slightly for GRE. If you are planning to take the GRE now or onwards, the good news is that ETS has recently launched two additional full-length online practice tests. ETS calls them GRE POWERPREP PLUS Online Test 1 and GRE POWERPREP PLUS Online Test 2.
Each test costs $39.95. So by any means, they are not cheap. These two tests are new and separate from the two free full-length POWERPREP Online Tests.
Let's talk about the features of these paid tests
For years I was fascinated by the fact that ETS never updated it's two free GRE power prep tests. These tests were made available in 2011, and for over six years they were never updated – not even a single question. This hurt GRE test takers; with each passing year, GRE became more difficult and trickier. Questions in power prep tests that were valid five years ago became obsolete. As a result, students started to see a lot of variation between their actual scores and their Power rep scores. Many complained that the questions in Power Prep were far more straightforward than what they saw on their real tests, especially on the quantitative section.
Even worse, ETS twice updated its GRE official guides (containing hundreds of official practice questions) but the second update, which was done in 2016, was just an aesthetic update. Not even a single new question was added. (Only the front cover got updated)
Given the history of lack of updates and fresh content from ETS, these two GRE POWERPREP PLUS tests are a huge PLUS. (as well as a welcoming step).
BUT, the important question is, should you buy these?
Let's first analyze what's new and different as well as what's good and bad in these paid exams.
SEE ALSO: How Many GRE Mock Tests Should I Take?
Good
New Questions
The best part of these two tests is that they have tons of new questions. This means that you get more practice with a never-before-published practice test that simulates the actual computer-adaptive tests.
Explanations
The two ETS free tests do not have and never had any detailed explanations with every question. So, this is another welcome addition since now students can easily understand any question that eludes them.
Better Interface
GRE has completely revamped its User Interface by designing a more modern, colorful & lively graphical interface. The old tests had a very outdated and dull interface.
Difficulty Level of Questions
The two free tests do not give the difficulty level of any question. But the 2 GRE POWERPREP PLUS Online tests show the difficulty level of each question. This is a good thing as students will now know the exact difficulty level of questions that they need to work on to improve their scores.
Scored Sample Essays
ETS POWERPREP PLUS provides scored sample responses and reader commentary so that you can compare your essay response to the scored sample essay responses. The option to access sample essay responses and reader comments are available on the GRE POWERPREP PLUS Test score report.
Please note that you will NOT be able to have your own essays graded – you will simply be able to view sample responses on those topics.
Pause
You can pause the GRE POWERPREP PLUS tests at any point during the test, unlike the previous free powerprep basic tests. You can even quit a test by saving your progress and continue at the same point later on. This may not be a wise thing to do since one should always take full-length practice tests in one sitting.
SEE ALSO: Are Mocks an Accurate Predictor of GRE scores?
Bad
Repetition
Some 'new' questions on the PLUS tests are a repeat of questions from the old GRE official guides or free powerprep basic tests. But these are very few; around 5-6 out of 80 questions per test. So while you might have encountered these previously, they will not impact your performance by much since most of the questions are still unseen.
Easy Quant Questions
One area where ETS has always lacked is a high number of quality quantitative questions. On the actual GRE, one still encounters a higher number of tricky questions, but in all ETS's official material, one does not find that many hard level questions. So I still feel that the quant questions, though a little better than the previous ones, do not parallel the way questions would come on the actual GRE quant sections.
Lack of thorough Explanations
While GRE has done a good job by adding explanations to their PLUS tests, the explanations are not that thorough. Especially on the verbal section, you would not find proper reasons of eliminating specific answer choices. So you will have to spend a lot of time understanding the options on your own. Quant explanations, on the other hand, are better and self-explanatory.
No Experimental (Unscored) Section
GRE POWERPREP PLUS Tests do not have an experimental section, another area that still leaves something to be desired. It is always more helpful to have full-length tests that are a complete reflection of the actual test. A student may get inflated scores without an experimental section since it would require lesser time to finish. And we all know, the longer the exam, the harder it is to concentrate for prolonged time periods.
Can be Used Only Once
Once you purchase the GRE POWERPREP PLUS Tests, you can just take a test once. Now this means that you should ONLY consider these tests once you feel that you are fully prepared and after you have done all other full-length tests. In other words, do these tests only at the end preferably a few days before your GRE test date.
If you waste your test due to lack of preparation, you will have to purchase them again. Also retaking the same test will not be an accurate indicator of your actual performance.
Valid for 90 Days
The GRE POWERPREP PLUS tests and its results accessible only for 90 days after you have accessed them.
SEE ALSO: Review of Barron's 6 GRE Practice Tests
Final Verdict
The tests are pretty costly. The GRE itself costs a lot and in some countries a lot more. So spending another $80 on two additional tests may not be wise.
If someone is looking for more verbal practice questions that reflect the real GRE, then GRE POWERPREP PLUS Tests are as close as it can get and you should definitely consider purchasing these.
However, if someone is looking for more quantitative practice, then you should not purchase these. I still feel that Manhattan's 6 online tests are far better at quant than ANY of ETS's material out there – whether free or paid. Also, Manhattan tests are much cheaper too – you can get 6 tests for half the price and with far better explanations and question types.
In the end, though I love the content in these exams, I strongly believe that one can fully practice for the full-length test by only using the free ETS power prep basic tests along with Manhattan tests. However, if you have a 'spare' $80, then purchasing them would not do any harm.